Imagine a situation where you are in need a particular product and the one you have found at a store/online/elsewhere could work for you only if it were a bit shorter (or longer), a bit lighter (or heavier) and maybe a different color. Sounds familiar?

When a Charlotte, NC based designer group was contracted by a freelance photographer to accommodate his ever changing photo display wall, they decided to focus on a solution that would provide flexibility and would not result in the subsequent use of spackling compound and paint. Indeed, how can photographers easily change the look and feel of their studio when one day they photograph expecting mothers and next day they are meeting with advertising executives who have contracted them to photograph their new product?

The online search conducted by the designers, uncovered the concept of a picture rail/picture ledge. What was the issue?! Right length, but wrong depth. Right color, but wrong material. And the most important factor - high cost.

The high end design world dwells on the concept of "custom-made." "Custom" is often associated with high cost however in reality it is not always the case. Two weeks of sketching, measuring, calculating, searching for appropriate materials/contractors and the client was presented with a new look of his studio's 18x9 focal wall. The latter boasted an installation made out of 2 inch deep white rails casually displaying the photographer's most recent work.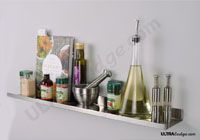 The word of mouth has proven to be the best advertising once again and ledge installations became a frequent design project. Factory space was acquired and a decision was made to establish manufacturing and wholesale/retail operations with an online store ultraledge.com.

Our success was not immediate but when you have the right team, everything works out sooner or later. We are certainly not the next big dot com and this is not our objective. All we want is to provide quality customizable display solutions for our customers, many of whom we know by the first and last name. Our biggest fans are gallery owners, artists, photographers, retail stores, art schools and institutes, universities, law firms and restaurants. We get extremely excited when we discover how customers utilize our products. These ideas feed our imagination and result in us developing quite a few new products soon to come.